Using IP Phones
This guide provides information for frequently used features. For more information about these and other features, refer to the user guide. For voice mail information, refer to the voicemail page.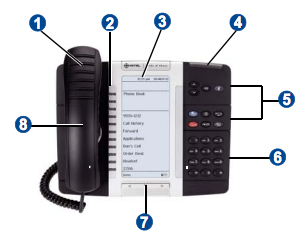 | No. | Name | Description |
| --- | --- | --- |
| 1 | Handset | The handset is hearing aid compatible (HAC). If you are using a headset or if you are in Handsfree Mode, you do not need to use the handset. |
| 2 | Programmable Buttons | Provide 33 self-labeling, programmable buttons. |
| 3 | Display | Provides a 160 x 320 (pixels) high-resolution viewing area for selecting and using features and identifying callers. |
| 4 | Ring/Message Indicator | Flashes or stays lit to indicate call, message, and feature activity. |
| 5 | Feature Buttons | Provide quick access to commonly used features. |
| 6 | Dialpad Buttons | Use the dialpad buttons to dial phone numbers, enter feature codes, and to enter characters when using features that require text input. |
| 7 | Navigation Buttons | Use the navigation buttons to page through Display screens. |
| 8 | External Speaker | Provides audio for handsfree calls and background music. |
Feature Buttons
Feature buttons provide quick access to commonly used features. See the following table for descriptions.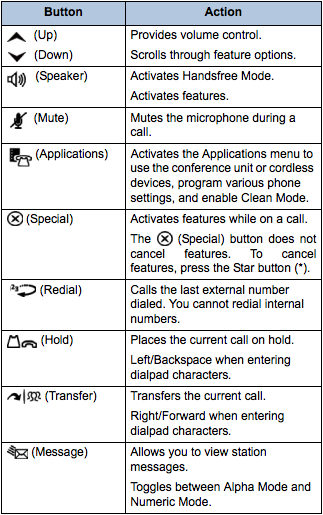 Answering Calls
Lift the handset, or press (Speaker) to answer a call while using a headset or to answer a call in Handsfree Mode.
Placing Emergency Calls
Dial 911 for an emergency call. The system immediately places the emergency call as soon as you dial the number, even if you do not select an outside line.
Placing Internal Calls
With or without the handset lifted, dial the extension number. If you enter incorrect digits, you can press (Hold) to move the cursor backward, deleting the last digits entered. If you are using Handsfree Mode, listen for the double tone, and then begin to speak.
Placing External Calls
Press the Outgoing button, an unlit Call button, or enter the Outgoing Call access code (9 for local, 8 for long distance), and then dial the number.
Redialing External Numbers
With or without the handset lifted, press the (Redial). The system automatically selects a line and dials the number.
Transferring Calls to Other Extensions
While on the call, press (Transfer), and then enter the extension number.
Do one of the following:

Wait for an answer, announce the call, and then hang up. If the extension is unavailable, press the flashing IC or Call button to return to the caller.
Hang up to transfer the call and disconnect the call from your IP phone.